Toastmasters International est une association internationale à but non lucratif qui a pour but d'aider ses membres à développer leurs compétences en communication orale et en leadership par la prise de parole en public.
Depuis 1924, Toastmasters International a permis à plus de 4 millions de personnes de tous horizons de gagner en confiance devant un auditoire.
L'organisation, dont le siège se trouve à Rancho Santa Margarita en Californie, compte à ce jour plus de 352 000 membres dans plus de 16 400 clubs et 141 pays.
Pour en savoir plus sur Toastmasters International : http://www.toastmasters.org/

Pourquoi adhérer à Toastmasters ?
Toastmasters vous permettra d'acquérir les compétences et la confiance en soi nécessaires en toute situation. Que vous soyez professionnel, parent au foyer, étudiant, en recherche d'emploi ou à la retraite, Toastmasters est un moyen très efficace, agréable et abordable de perfectionner vos compétences en communication.
En apprenant à mieux formuler et exposer vos idées, vous allez découvrir un nouveau champ de possibilités. Vous gagnerez en assurance et en persuasion lors de vos présentations et prises de parole professionnelles, ainsi que dans vos relations interpersonnelles.
Vous allez :
Apprendre

à communiquer plus efficacement
Apprendre à mieux écouter
Améliorer vos présentations
Développer vos qualités de leadership (écouter, être écouté, diriger, organiser)
Accroître votre pouvoir de persuasion et votre capacité à motiver
Gagner en assurance et en aisance (confiance en soi)
Comment :
Grâce à des programmes de formation spécifiquement conçus pour développer et améliorer les capacités de communication orale et de leadership
En bénéficiant d'une méthode d'évaluation constructive et structurée qui a fait ses preuves

---
What is Toastmasters International?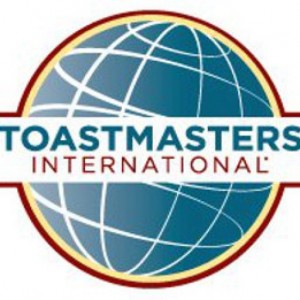 Toastmasters International is a non-profit educational organization that teaches public speaking and leadership skills through a worldwide network of meeting locations.
Since 1924, Toastmasters International has helped people of all backgrounds become more confident in front of an audience.
Headquartered in Rancho Santa Margarita, California, the organization has more than 352,000 members in more than 16,400 clubs in 141 countries.
Learn more about Toastmasters International with the following link: http://www.toastmasters.org/
Why join Toastmasters?
Toastmasters will give you the skills and confidence you need to effectively express yourself in any situation. Whether you are a professional, student, stay-at-home parent or retiree, Toastmasters is the most efficient, enjoyable and affordable way of gaining great communication skills. By learning to effectively formulate and express your ideas, you open an entirely new world of possibilities. You'll be more persuasive and confident when giving presentations, and you'll improve your one-on-one dealings with others.
You will…
Learn to communicate more effectively
Become a better listener.
Improve your presentation skills
Increase your leadership potential
Build your ability to motivate and persuade
Increase your self confidence.
How you do it. . .
Build speaking and leadership skills with time-tested methods
Receive suggestions for improvement through constructive evaluations